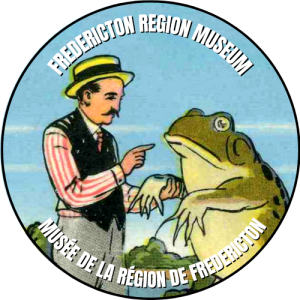 (Fredericton, NB – July 11, 2022) – During July, August, and September, visitors to the Fredericton Region Museum will be able to catch the award-winning duo of Frantically Atlantic perform weekly at the museum.
Join us every Tuesday at 1pm – starting on July 19 – as Frantically Atlantic will recount the story of Fredericton's Famous Coleman Frog. Also take some time to visit the museum's newly re-developed exhibit about The Coleman Frog and The Barker House Hotel.
Weekly performances will feature a fresh new take on the Coleman Frog, as the Fredericton Region Museum seeks to reveal the man and woman behind Fredericton's famous 42-pound icon.
Come meet Fred Coleman, proprietor of the famed Barker House Hotel, along with his wife Mary Coleman. The two will relay some facts (and yarns) about their lives in Fredericton during the late nineteenth century. They may even sing a song or two!
Special performances will take place during the weekend of July 30 & 31 as the Fredericton Region Museum celebrates Froggy Weekend, dedicated to all things Coleman Frog related.
During September performances will take place on Wednesdays at 1 pm, with the last performance on September 21.
The Fredericton Region Museum is excited to work with Frantically Atlantic in celebrating the 150th anniversary of Fred Coleman's arrival in Fredericton in 1872; the 140th anniversary of his operating The Barker House Hotel; and the 135th anniversary of establishing Killarney Lodge on the shores of Killarney Lake in 1887 (birthplace of Fredericton's Famous Coleman Frog).
We are grateful to financial support provided by the Government of Canada (Canadian Heritage), Province of New Brunswick, City of Fredericton, and York Sunbury Historical Society.
The Fredericton Region Museum is located in downtown Fredericton, at 571 Queen Street. We are now operating on summer hours: Monday to Saturday 10 am – 5 pm, Sundays 12 pm – 5 pm
For more information, please contact:
Melynda Jarratt, Executive Director
Fredericton Region Museum www.frederictonregionmuseum.com
Email: frederictonregionmuseum@gmail.com or phone 506-455-6041