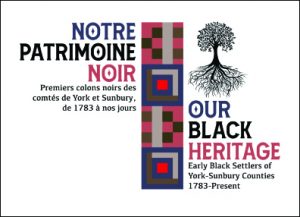 In celebration of National Emancipation Day on August 1, 2021, an exhibit dedicated to the Black Heritage of the Fredericton region will open at 10 am Sunday at the Fredericton Region Museum.  The official opening ceremony will be held on Monday, August 2 at 3 pm and, weather permitting, will take place outside. Admission to the museum is FREE on Sunday and Monday August 1 and 2 and by reservation only. COVID restrictions apply.
To book your visit, please contact frmoperations@gmail.com or call 506-455-6041.
Since the arrival of Black Loyalists in 1783, there have been settlers of African descent who have contributed greatly to the development of New Brunswick. Working ever so silently, without recognition or applause, families and communities have banded together to contribute in significant ways to the social enfranchisement of themselves and their neighbours; yet despite these positive developments, individuals of African descent continue to face oppression in this province.
The museum exhibition, entitled Our Black Heritage: Early Black Settlers of York-Sunbury Counties 1783-Present presents a dynamic story of Blacks who have struggled against servitude and oppression in the Fredericton region. Through artefacts, archival documents, newspaper accounts, and photographs, visitors are invited to reflect upon the historical roots of oppression, and learn about ways in which citizens of African descent have responded with determination and perseverance. It has been a long journey of mixed feelings and emotions. This is the story of York-Sunbury early Black settlers from 1783 to the present; It is a story of hope denied, hope restored, and hope that (for many) remains unfulfilled.
In proud recognition of National Emancipation Day, Our Black Heritage: Early Black Settlers of York-Sunbury Counties will be open to the public (by appointment) August 1 and 2, 2021. Weather permitting, the official opening ceremony will take place outside of the museum on August 2 at 3 pm.  Attendees are asked to bring a lawn chair and to maintain their Covid bubble. In case of inclement weather, attendees will gather on the museum balcony.
The Fredericton Region Museum is honoured to be working in partnership with a long list of dedicated volunteers to make this project possible. We are grateful to our partner institutions: Provincial Archives of New Brunswick, University of New Brunswick (Harriet Irving Library & Special Collections), Kings Landing Historical Settlement, New Brunswick Museum, St Peter's Anglican Church, Tomlinson Lake Hike to Freedom, New Brunswick Black History Society, Black Lives Matter Fredericton, and the NB Film Coop. We are also grateful to financial support provided by the Government of Canada (Canadian Heritage), Province of New Brunswick, City of Fredericton, the Canadian Museum of History (Digital Museums Canada) and York Sunbury Historical Society.
In conjunction with the exhibit, the York-Sunbury Historical Society will also release a special (2 volume) issue of The Officers' Quarters, highlighting in detail the achievements of Fredericton's Black community. Honoured contributors include nationally acclaimed writers Lawrence Hill (author of The Book of Negroes) and George Elliott Clarke.
Visitors are welcome by appointment only to the Fredericton Region Museum. To book your visit, please contact frmoperations@gmail.com or call 506-455-6041.