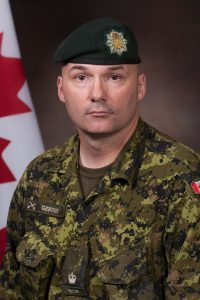 VIRTUAL Presentation on The Urban Battle for ORTONA
7 pm, Thursday, November 19, 2020 VIA Zoom
Contact us for the ZOOM Link
The Urban Battle for Ortona during the Italian Campaign will be the focus of the upcoming York Sunbury Historical Society's virtual speaker series featuring historian Major Jayson Geroux.
This LIVE event is FREE and will be held via ZOOM at 7 pm on Thursday, November 19, 2020. The presentation will be recorded and made available online after the event.
Major Jayson R. J. Geroux, C.D., M.A., is a member of the Directing Staff, Tactics School, at CFB Gagetown's Combat Training Centre, and an Urban Warfare and Counter-I.E.D. Specialist.
Major Geroux will closely examine the 2nd Canadian Infantry Brigade's day-by-day decisions and combat actions during December 1943. He will follow the 2nd Brigade's struggle through Ortona's streets to understand how they attempted to impose order on what has historically been labelled as chaos.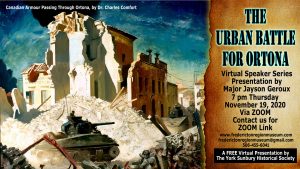 This discussion links the tangled nest of dramatic stories in time and space to reveal the chain of historical cause and consequence. It also considers how geography, force composition, weapons systems, and the presence of substantial numbers of Italian civilians all factored in the outcome.
Contact us for the ZOOM Link
Melynda Jarratt, Executive Director, Fredericton Region Museum
Email: frederictonregionmuseum@gmail.com
Web: www.FrederictonRegionMuseum.com
Tel: 506-455-6041
For further information please see our ZOOM Resources guide below:
You can download Zoom HERE
https://zoom.us/download
You can find information about installing Zoom HERE
https://support.zoom.us/hc/en-us/sections/200704559-Installation
HERE is a YouTube link about how to download and install Zoom on a PC
https://www.youtube.com/watch?v=fVu9BILRkww
HERE are resources about how to join a Zoom meeting
https://support.zoom.us/hc/en-us/articles/201362193-Joining-a-meeting