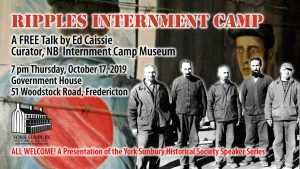 The experiences of European refugees and prisoners at the Ripples Internment Camp near Minto will be the focus of historian Ed Caissie's talk at the York Sunbury Historical Society's monthly speaker series.
This event is FREE and takes place at 7 pm, Thursday, October 17, 2019 at Government House, 51 Woodstock Road.
The Ripples Internment Camp was one of 25 Canadian Prisoner of War camps during the Second World War. The museum tells the stories of the hundreds of European internees, including German and Austrian Jewish refugees who had escaped to Britain only to be taken prisoner and sent to Canadian internment camps like Ripples.
Ed Caissie is the Chairperson and Curator of the NB Internment Camp Museum. He is a retired educator and recipient of two national awards for innovative teaching.