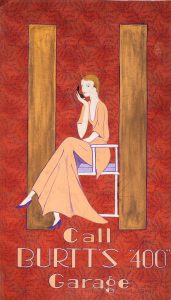 (Fredericton, July 6, 2023) – Mary Evelyn Grannan was one of the most successful Canadian children's authors of the 20th century, best known for her Maggie Muggins stories that evolved into a CBC television production. She was also a very talented artist and craftswoman. In proud recognition of her legacy, the Fredericton Region Museum is featuring a new summer exhibit that showcases a rare and unique collection of her artwork. Born in Fredericton on February 11, 1900, Mary was the middle daughter of William Peter Grannan and Catherine Haney. She lived with her parents and two sisters in a house that still stands on Brunswick Street. Her father, a carriage builder, was very fond of reading and drawing, and her mother was an avid storyteller. Both of her parents were humorous and artistic people who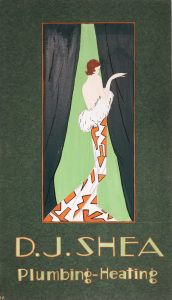 passed on their hobbies to Mary. From an early age, Mary's spirit was overflowing with energy. Her creative ideas, together with her boundless energy, laid the foundation for the development of her writing career. She eagerly explored the various performing arts (productions of amateur theatre, motion pictures and the circus), to experience everything they offered a creative person like herself. Along with her sisters, Helen and Ann, the Grannan girls wrote and performed their own theatrical shows at home, and Mary was also particularly fond of telling stories with her own imagination.
Mary Grannan was a talented artist, who studied commercial art at the Vesper George School of Arts in Boston, Massachusetts. Created in 1929 as an advertising campaign to promote Downtown Fredericton, the twelve art deco posters featured in this exhibit can now be seen along with Mary Grannan's oil portraits and handmade toys thanks to the gracious donation of Owen Fowler. These advertisements are all the more remarkable since they bear witness to commercial establishments that (with the exception of one) have since disappeared from Fredericton's downtown streetscape. This exhibition was made possible thanks to the financial support of the City of Fredericton and Canadian Heritage. To introduce children to the rich imaginary world created by Mary Grannan, museum volunteer Eunjoo Cho has also organized a Mary Grannan storytime that will run every Thursday from 6:30 to 7:30 p.m., beginning July 6 and continuing throughout the summer.
The Fredericton Region Museum is open Monday to Saturday, 10 a.m. to 5 p.m., and
Sundays 12 noon to 5pm, as well as on Thursday evenings until 8 p.m in
conjunction with the Storytime hour and the Garrison Market.
For more information, please contact:
Jaxon Baker, Interim Executive Director
Fredericton Region Museum www.frederictonregionmuseum.com
Email: frederictonregionmuseum@gmail.com or phone 506-455-6041