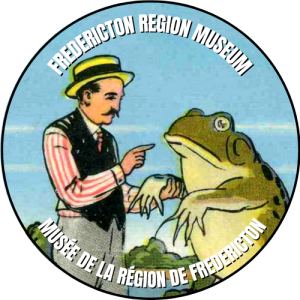 Froggy Weekend Leaps Into Action July 30-31!
(Fredericton, NB – July 25, 2022) – This coming weekend, July 30-31, come to the Fredericton Region Museum to celebrate everything relating to the Coleman Frog! We are hosting our Froggy Weekend event, with entertainment for those of all ages, from 10 am – 5 pm on Saturday and 12 pm – 5 pm on Sunday. All visitors wearing green in honour of the Coleman Frog will receive half price admission to the museum!
Activities include a scavenger hunt that will require you to muster your best detective skills. If you can decipher the hidden message at the end, you'll be awarded a prize and become a certified member of our Froggy Fan Club!
Frantically Atlantic will be performing throughout the weekend to enhance the understanding of all things Green. On Saturday, there will be Storytime from 10:30 – 11:30; at 1 pm the two will don the roles of Fred and Mary Coleman, to reveal a lesser-known story behind the legend of Fredericton's iconic 42-pound frog. Then, from 3:30 – 4:30 they will be wrapping up the day's festivities with a sing along event for all ages.
On Sunday, Frantically Atlantic will again offer a Storytime from 12:15 to 12:45, with their Fred and Mary Coleman performance happening from 1:45 – 2:15. All of the Frantically Atlantic performances will take place on the balcony at the museum.
For the physically active, on both Saturday and Sunday there will be a "Froggy Experience" mindfulness activity, led by Elaine Campbell, a certified yoga instructor. This will take place on the second floor of the museum, 2:00 to 3:00 on Saturday, and 12:45 to 1:45 on Sunday.
For the artistically inclined, try your hand at making origami frogs! This activity will also be taking place on the second floor of the museum on both Saturday (11:30 to 1:00) and Sunday (2:30 to 3:30).
At the end of the day on both Saturday and Sunday, visitors are welcome to write a postcard to themselves (or to whoever they wish) regarding their experience in Fredericton during Froggy Weekend. These postcards are an original reproduction of those that were used, 100 years ago, to promote New Brunswick as a unique tourist destination. The cost (which includes postage) will be $3.00 and we will ensure to mail it off for you! Participants will also become certified members of our Froggy Fan Club, and will be able to have their official photo taken with our loveable Coleman Frog mascot.
We hope to see you at the Fredericton Region Museum – July 30 and 31 – for a weekend of fun and celebration of all things Green!
For more information, please contact:
Melynda Jarratt, Executive Director
Fredericton Region Museum www.frederictonregionmuseum.com
Email: frederictonregionmuseum@gmail.com or phone 506-455-6041
Facebook | Instagram | Twitter
Froggy Weekend Schedule of Events – July 30 and 31, 2022
SATURDAY – July 30:
All day
Photo ops with the Coleman frog mascot! (Entrance)
Scavenger Hunt (Front desk)
Temporary tattoos (1932 exhibit space)
10:30 – 11:30
Coleman Frog Storytime with Frantically Atlantic (Balcony)
Coleman's Pride (2008) by Koral LaVorga and Melanie Cormier for sale on balcony (50 cents of sales will be donated to the SPCA)
11:30 – 13:00
Origami (Confederation Room – 2nd floor)
13:00 – 13:30
Barker House Interpretative Performance by Frantically Atlantic (Balcony)
14:00 – 15:00
'A Froggy Experience' mindfulness exercises with Elaine Campbell, certified yoga instructor (Confederation Room – 2nd floor)
15:30 – 16:30
Sing-along with Frantically Atlantic (Balcony)
16:30 – 17:00
Postcards (Balcony)
Honorary Froggy Fan Club membership certification (Balcony)
SUNDAY – July 31:
All day
Photo ops with the Coleman frog mascot! (Entrance)
Scavenger Hunt (Front desk)
Temporary tattoos (1932 exhibit space)
12:15 – 12:45
Coleman Frog Storytime with Frantically Atlantic (Balcony)
Coleman's Pride (2008) by Koral LaVorga and Melanie Cormier for sale on balcony (50 cents of sales will be donated to the SPCA)
12:45 – 13:45
'A Froggy Experience' mindfulness exercises with Elaine Campbell, certified yoga instructor (Confederation Room – 2nd floor)
13:45 – 14:15
Barker House Interpretative Performance by Frantically Atlantic (Balcony)
14:30 – 15:30
Origami (Confederation Room – 2nd floor)
15:30 – 16:30
Sing-along with Frantically Atlantic (Balcony)
16:30 – 17:00
Postcards (Balcony)
Honorary Froggy Fan Club membership certification (Balcony)