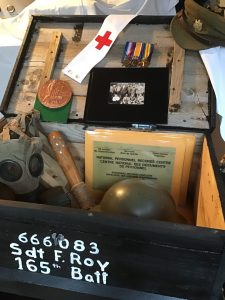 (Fredericton, NB – December 7, 2022) – The Fredericton Region Museum is very pleased to announce the availability of their First World War Trunk, which documents the experiences of New Brunswick soldiers who served on the Western Front during the Great War of 1914 – 1918. Designed for classroom use, these trunks offer students with hands-on experiences, and are available on loan from the museum. We are also looking for teachers who would like to participate in a University of Ottawa inquiry regarding how New Brunswick students remember the First World War.
Inside each trunk, students will discover reproduction artefacts, archival records, and images documenting the war experiences of specific soldiers and nurses. More information can be found here: https://www.frederictonregionmuseum.com/2022/10/27/first-world-war-trunk/
Available in both official languages, featured individuals include Ernest Brewer, Percy Winslow Grant, and Percy Guthrie (all of Fredericton), as well as Dora Hubbard (Oromocto), and Arthur Kelly (Stanley). Acadian soldiers are represented by Alfred Belliveau (Fredericton), Félicien Roy (Moncton), Louis Daigle (St-Louis-de-Kent), and Jean Gaudet (Adamsville).
Teachers will find everything they need to provide a unique, informative, and hands-on experience for students learning about the First World War. Call (455-6041) or email us (frmoperations@gmail.com) to borrow this trunk for your classroom.