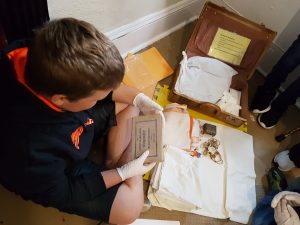 Designed to complement Unit 1 of the Grade 6 Social Studies curriculum in New Brunswick, Suitcase Stories will lead students on a quest to discover the cultural identities of individuals living in Fredericton, and how this relates to the concept of material culture.
This three-part education program includes a classroom visit by a museum volunteer, followed up by a museum visit, and classroom post-visit activities that explore historical perspectives and cultural identity.
Call (455-6041) or email us (frmoperations@gmail.com) to book your classroom visit and museum tour.