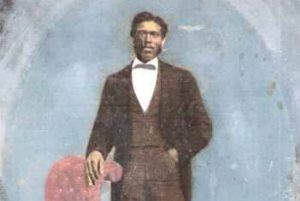 We are currently in the research and development stages of a new exhibit documenting the Black heritage of York Sunbury Counties spanning the years 1760 to 2020.
The research team includes: Mary Louise McCarthy, Graham Nickerson and Jennifer Dow with the support of Dr. Cynthia Wallace-Casey and Doug Hall.
Photo at right: William Kendall  was the descendant of Black Loyalist Solomon Kendall.  William was one of a family of 16 and he was raised in York County. Upon his death in 1938 he was considered "one of the oldest most respected members of the community".  Source: Kendall/Marr Family Collection. Used with permission of Jennifer Dow.